Experience wellness, SPAs, and relaxation on Ibiza
The island of Ibiza opens its doors to a diverse array of wellness SPAs and it´s a true paradise for body, mind, and soul!
Ibiza, known for its vibrant nightlife, stunning beaches, and lively atmosphere, also offers a hidden gem for those seeking tranquility and rejuvenation. The island welcomes visitors with a diverse range of wellness SPAs, creating an oasis of serenity amidst the lively Ibiza scene. It's a place where you can escape the hustle and bustle, embark on a journey of self-discovery, and nurture your body, mind, and soul.
---
La Posidonia Spa
…. located within the exclusive Hacienda Na Xamena Hotel near Puerto de San Miguel in the northern part of the island, La Posidonia Spa welcomes both hotel guests and external visitors who can take advantage of special packages. Perched majestically on cliffs nearly 200 meters above sea level, guests here enjoy breathtaking views, top-notch amenities, and a wide range of wellness and beauty treatments.
A standout highlight of this exclusive experience is undoubtedly the renowned "Cascadas Suspendidas" or "Hanging Waterfalls." This outdoor treatment comprises eight different mini-pools heated to three different temperatures, delivering a high-pressure jet massage that starts gently at the soles of your feet and envelops your entire body.
La Posidonia caters to discerning guests seeking top-notch pampering amidst the unspoiled nature of Ibiza while appreciating the Slow Living philosophy championed by this renowned five-star hotel. During their fall and spring wellness promotions, special packages provide the perfect finale to an unforgettable spa experience, offering guests the chance to savor exceptional gastronomic delights in one of the hotel's own restaurants, whether for lunch or dinner.
Website Link – (https://www.laposidonia-ibiza.com/)
---
Pure Seven Spa
… nestled within the exquisite 7Pines Resort Ibiza, is a favorite among both hotel guests and external visitors. This spacious wellness oasis, spanning 1,500 square meters, draws inspiration from the relaxed Mediterranean lifestyle and the revitalizing energy of Ibiza.
Perched high atop a cliff between the enchanting Cala Conta beach and the secluded Cala Codolar cove, the Pure Seven Spa offers unparalleled views of the expansive sea, with the iconic Es Vedrà island as a picturesque backdrop—a perfect setting for complete relaxation.
The Pure Seven Spa offers a variety of health and beauty treatments to rejuvenate and harmonize the body and mind. Wellness programs can be customized to individual preferences, including private yoga and Pilates sessions, as well as mindfulness exercises. For those who prefer a more active approach, the spa also provides fitness sessions with personal trainers.
Committed to sustainability, the Pure Seven Spa is a plastic- and paraben-free space. Plastic bottles, straws, skincare products, and access cards have been replaced with eco-friendly alternatives, reducing environmental impact.
Website Link -(https://7pines.com/de/ibiza/pure-seven-spa)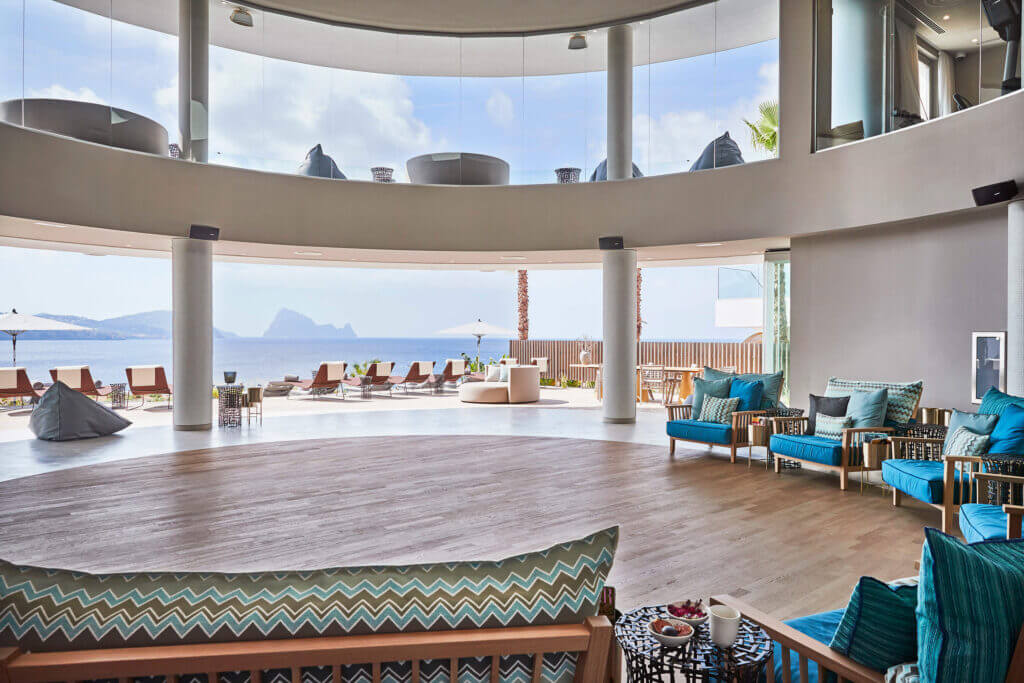 ---
Can Curreu Spa
… is a sanctuary designed to promote harmony between the body and mind and to rejuvenate your daily energy.
An ideal place for a day of relaxation, tranquility, and pure enjoyment. Our open spaces, bathed in natural light, offer a thermal area with a sauna, hamam, heated indoor pool with a Jacuzzi, sunbeds, waterfalls, an outdoor pool, heated loungers, a cold plunge pool, and sensory showers. Additionally, we feature a fully equipped fitness center with Technogym machines, massage rooms, a beauty salon, a hair salon, a solarium, a chill-out area, and countless possibilities. Our treatments provide an experience you'll want to relive again and again.
Website Link -(https://www.cancurreu.com/spa)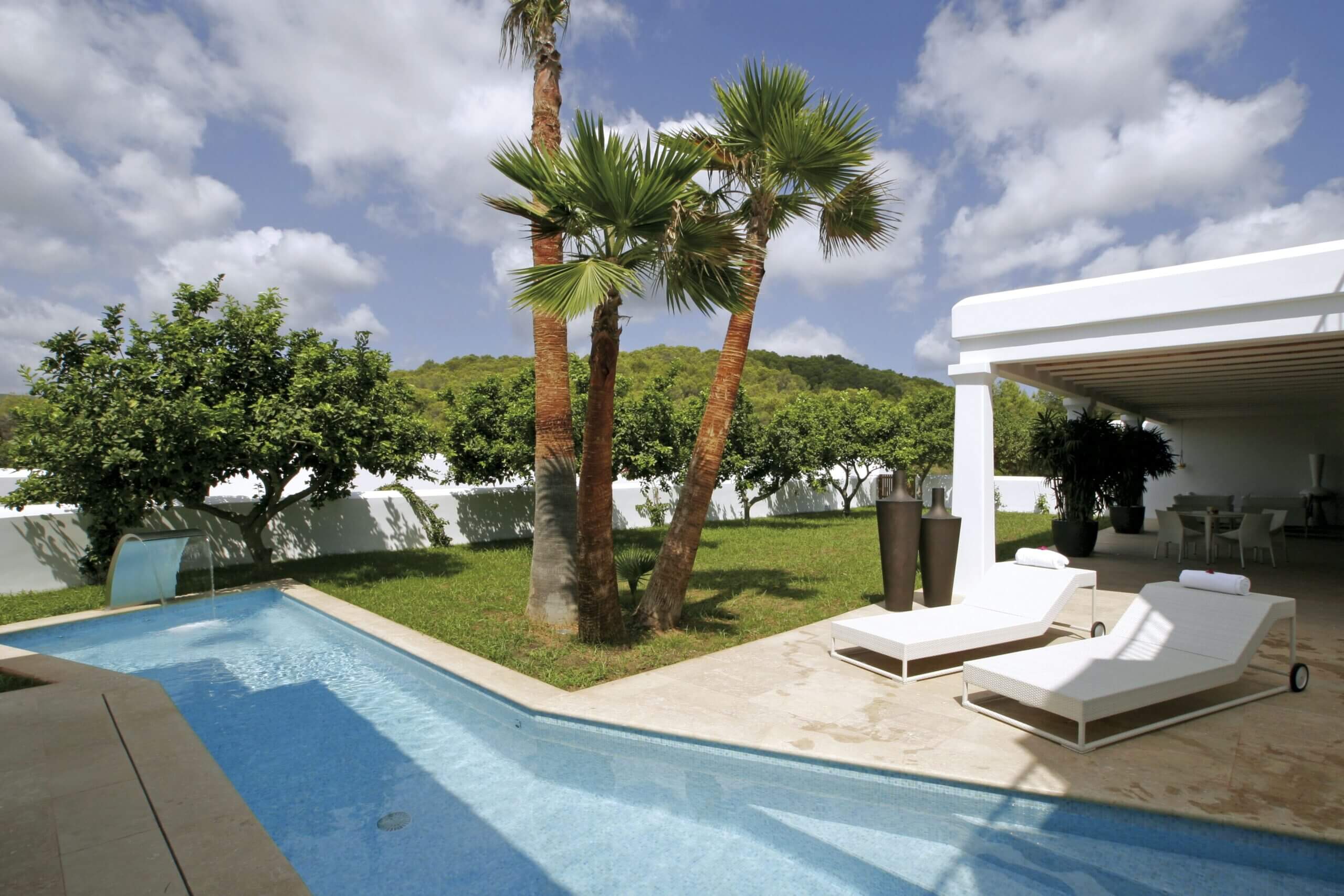 ---
Revival Spa by Clarins
… at the exclusive Aguas de Ibiza Grand Luxe in Santa Eulalia sprawls over 1500 square meters, drawing both hotel guests and external visitors. This spa is managed by a team of highly qualified therapists, nutritionists, and personal trainers who tailor experiences to individual needs, guaranteeing a personalized health and wellness journey.
Experience true physical, mental, and emotional harmony with deluxe treatments for both men and women at the Revival Spa by Clarins. These treatments range from facial and full-body therapies to various physical treatments, body scrubs, and massages. The spa exclusively uses the finest, carefully curated natural and sustainable products made from high-quality plant extracts to ensure your well-being.
Inspired by Ibiza's spirituality and reputation for healing, the Revival Spa by Clarins is built on three pillars: diet and nutrition, fitness, and social life. With this in mind, our three high-end programs – Detox, Weight Loss, and Fitness – are designed to help you embrace a healthy, active lifestyle. It's the ideal place to unwind and connect with fellow wellness enthusiasts in a welcoming, thoroughly Mediterranean environment influenced by Feng Shui and the principles of eco-luxury.
The Revival Spa by Clarins at Aguas de Ibiza Grand Luxe de Santa Eulalia is divided into two zones. The Water Area includes a sauna, Turkish bath, Roman bath, cold plunge pool, ice fountain, counter-current pool, waterbeds, relaxation areas, a solarium, and a wellness bar. The treatment area offers a range of oriental treatments, rituals based on Mediterranean products, and high-quality Clarins beauty treatments. Manicures and pedicures are offered using Essie products.
The Revival Spa also houses a well-equipped fitness area with an aerobic exercise room, gym, weight room, and a yoga/pilates area. You'll find Technogym multipower machines, dumbbells, and cardio equipment. Personal training sessions and daily yoga/pilates classes are available for an additional fee.
Website Link – (https://aguasdeibiza.com/spa/)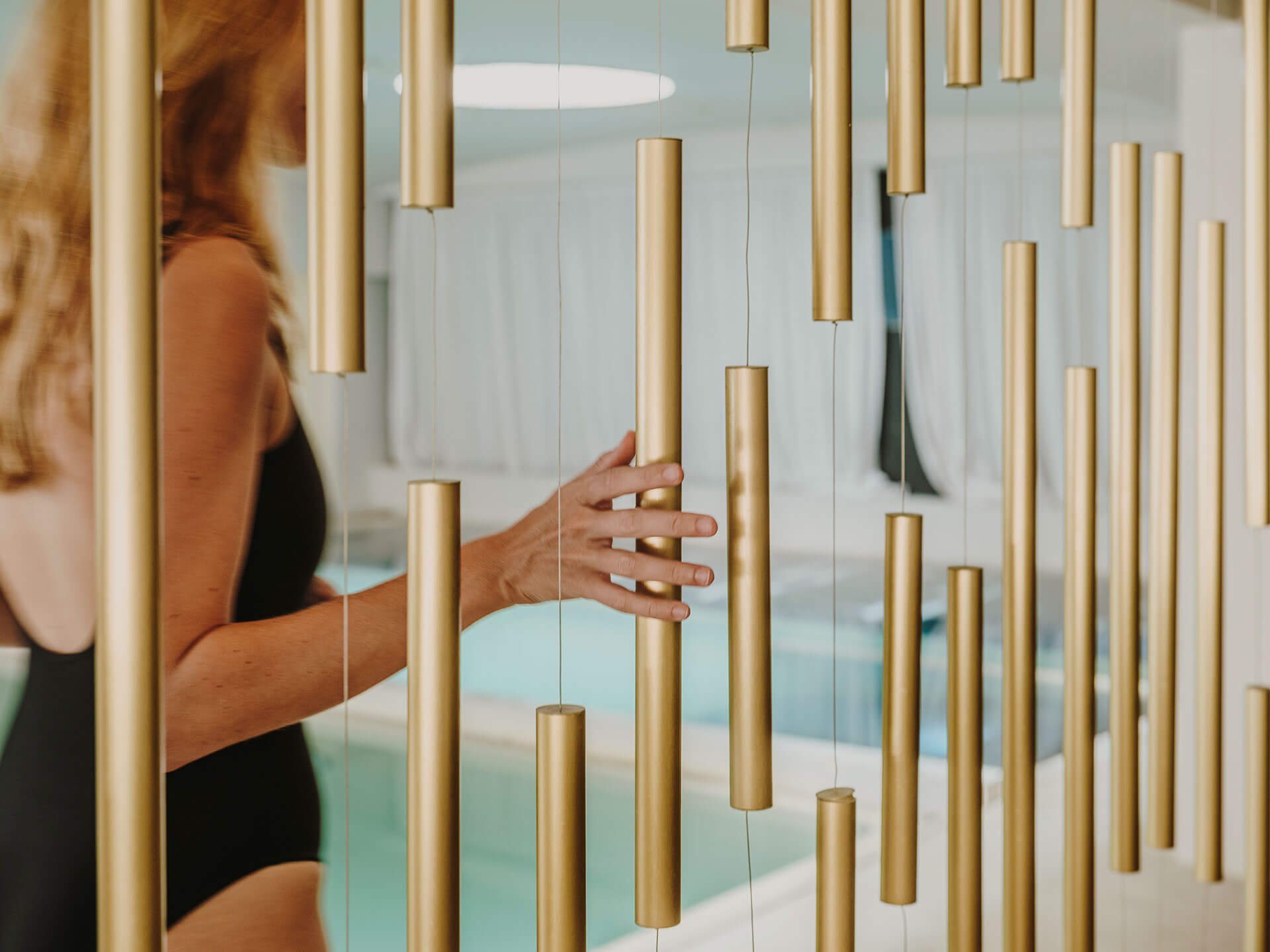 ---
Beldon Wellness im Bless Hotel
…. Ibiza is your ticket to silencing the whirlwind of thoughts and effortlessly transitioning into a state of blissful contentment.
Inspired directly by Ibiza's pine-scented landscape, Beldon Wellness offers serenity through a range of amenities, including a Turkish hammam, hydrotherapy centers, whirlpools, and other holistic treatments that will rejuvenate you from head to toe. The treatment menu features the use of active natural ingredients combined with physical techniques, designed to harmonize with the island's natural surroundings, personalized rituals, and immersive programs.
You can also maintain your fitness through yoga, Pilates, or personal training sessions.
Once your worries and stress have been washed away, the exclusive wellness center also provides the opportunity to pamper and replenish your body at its beauty salon. Truly, it offers complete decompression, all under one roof.
Website Link -(https://www.blesscollectionhotels.com/en/ibiza/bless-hotel-ibiza/wellness)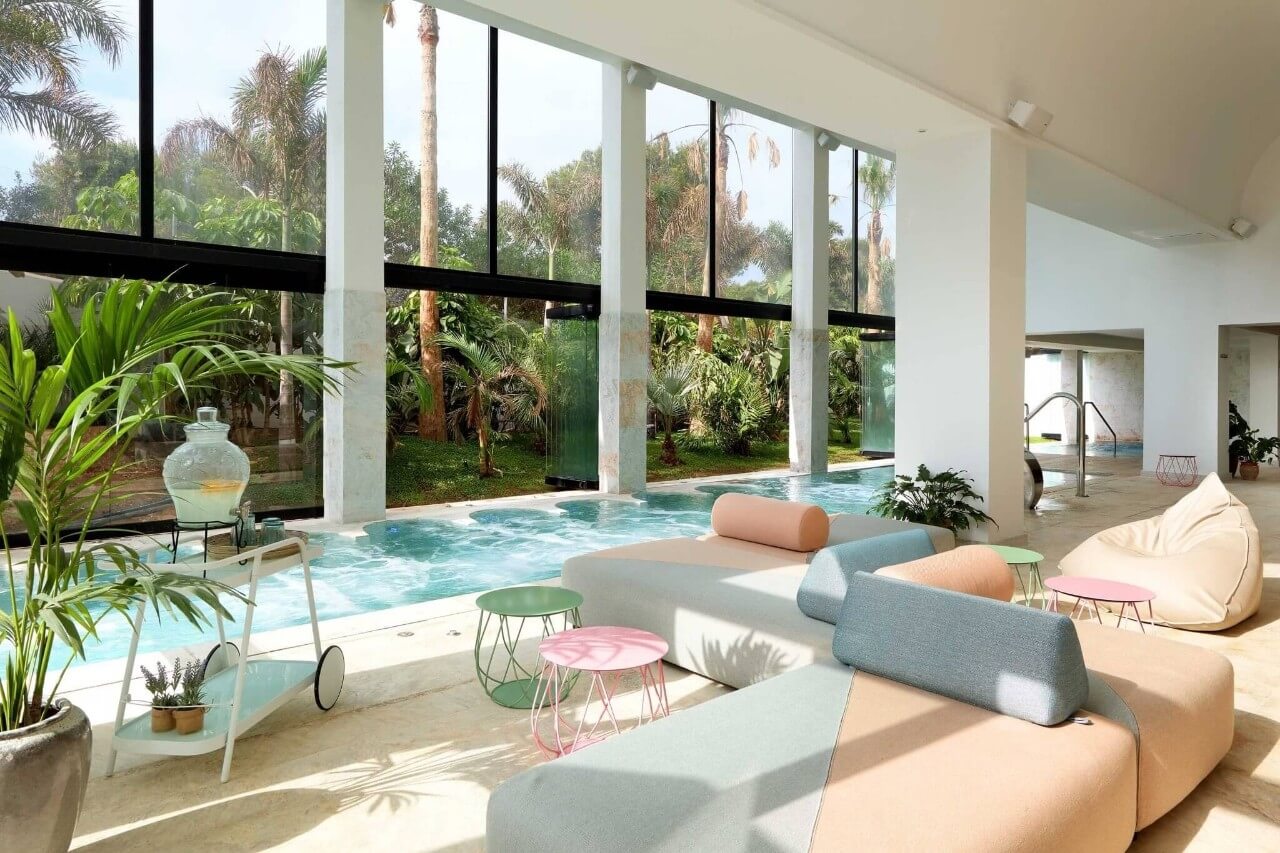 ---