SORRY – AN IMPORTANT WARNING BEFORE! NEVER WALK BETWEEN THE SALT FIELDS – AWAY FROM THE FEW PUBLIC TRACKS! IT IS A NATURE RESERVE AND ACCESS IS ONLY AVAILABLE WITH A PERMIT!
Introduction
Ibiza is known for its stunning beaches and crystal-clear waters, but it is also home to a unique species of bird – the pink flamingo. These graceful creatures thrive in the salty lagoons and wetlands that dot Ibiza's coastline, making them an exciting sight for visitors. Flamingos come in a variety of colors ranging from pale pink to pink orange depending on their diet. Interesting facts about these elegant birds include their impressive wingspan which can reach up to two meters wide! Additionally, flamingos have special feathers that allow them to filter food out of water with ease, enabling them to go after even the smallest aquatic prey items.

Flamingo Habitat
Flamingos can be found in the Ses Salines Natural Park from August to April, which offers these beautiful birds a protected feeding area and looks like a great place to overwinter. Visitors to this park can easily spot flamingos wading in shallow lagoons or gracefully soaring across the sky. Another great place to observe these creatures is at the nearby Es Vedra Island, where they often gather near food sources close to shore. The pink hues of their feathers stand out against the clear blue waters here, making it an ideal spot for birdwatchers looking for excellent photo opportunities!
When observing flamingos at Ibiza, visitors should keep in mind that these birds have particular behaviors and habits that affect when and how they move about. For instance, during mating season from April-June each year, large flocks will congregate as part of courtship rituals. Additionally, due to their long wingspan (up to two meters!), flamingos tend to be more active in open areas with fewer obstacles so they don't injure themselves while flying overhead. Finally, since flamingos rely heavily on food sources like shrimp and other tiny aquatic prey items; visitors may see them stopping frequently along shallow shores or wetlands throughout the island as they hunt for sustenance!

Flamingo Watching Tips
To ensure a successful flamingo watching experience, visitors to Ibiza should familiarize themselves with the basics of spotting and observing these magnificent creatures. Spotting flamingos can be tricky due to their size and coloration, so it is important to look for movement in shallow waters or amidst nearby foliage. Additionally, binoculars are a great tool for viewing distant birds as well as identifying specific species. Once spotted, visitors should observe from a safe distance in order to minimize disturbances that could cause the birds unnecessary stress. Do not wear any bright and light colors. Beige, Green, Gray, Black are good!

Why are the flamingos pink?
Depending on their diet, the flamingos' feathers are sometimes more or less pink in color. In the birds' digestive tract, the red color pigments are removed from the microorganisms that they ingest with their food, which then accumulate in the feathers over time and with the growth process. If the birds are attractively pink in color, this indicates adequate nutrition, good general health, and enough attractiveness to "seduce" potential mates.
In Ibiza, a species of crustacean called Artemia salina (brine shrimp) is particularly common in the salt basins of the Ses Salines Natural Park, which ensures the preservation of the lagoons and the purity of the salt and is also the favorite food of flamingos.

Photographing Flamingos in Ibiza
The months July to September are best for bird watching, especially in the area of Es Colodar and Es Cavallet. Photographing flamingos in Ibiza can be a rewarding experience, especially when done with the right equipment. Photographers should invest in a camera that allows for manual settings such as aperture and shutter speed control, which will help them capture the unique beauty of these birds in flight or while feeding. Additionally, long lenses are essential for getting close-up shots without disturbing the animals; telephoto lenses of 300mm or longer are recommended to get the best results. For those who prefer to shoot from afar, binoculars are also a great tool that allows photographers to identify specific species and zoom in on details like feathers and beaks without alarming their subjects.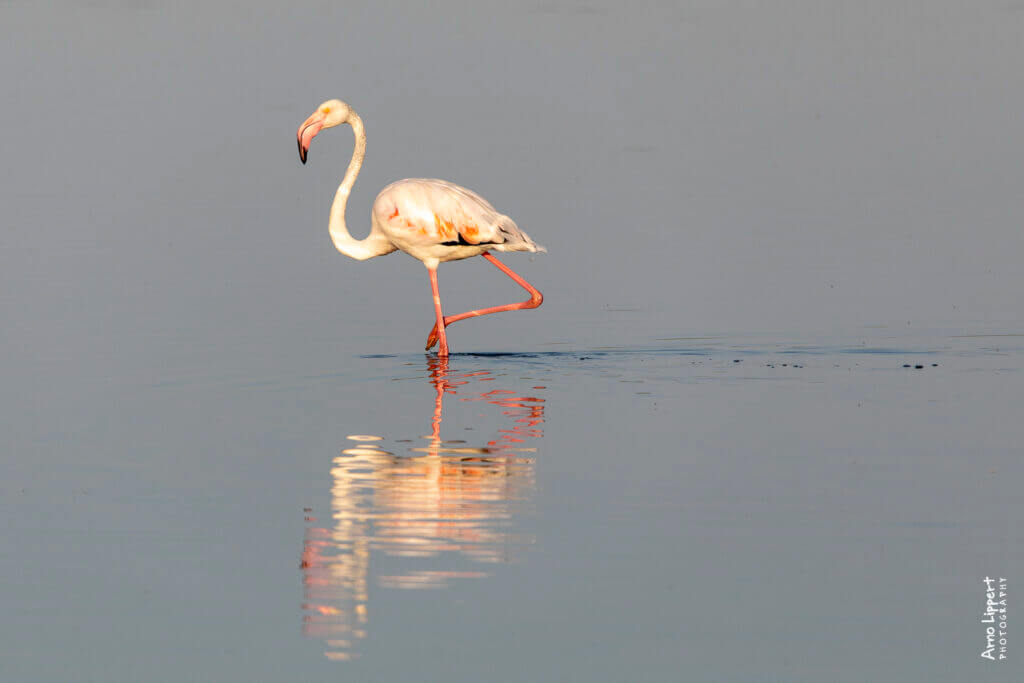 I used Canon Objectives EF 100-400mm f/4.5-5.6 and the Sigma 150-600mm F5,0-6,3 DG OS HSM Contemporary. The Sigma got me much better results!
Sigma 150-600mm F5,0-6,3 DG OS HSM Contemporary

The Conservation of Flamingos
The conservation of flamingos is an important issue that requires global attention. These majestic creatures are found in several countries around the world, but their populations have been declining due to a variety of human-made threats. Common issues include destruction of wetland habitats, overfishing and pollution, all of which put considerable strain on these unique birds. In order to protect them from further decline it is essential for both individuals and governments to take action to preserve their habitats and prevent harm from coming to wild populations.
One major threat facing flamingos is habitat loss due to development activities such as construction or land reclamation projects; this can lead to wetlands being drained or destroyed thus depriving the birds of necessary food sources and nesting grounds. Therefore it is important that governments work with local communities when creating new infrastructure plans in order to minimize any potential damage caused by these initiatives. Additionally, laws must be implemented that ensure proper waste disposal practices so pollutants do not end up in areas where they could contaminate water sources used by flamingos (and other aquatic life).
Another common problem faced by these animals is overfishing; while some fisheries may use sustainable methods there are also many instances where fishing equipment like nets have been known cause serious injury or death among young chicks who cannot escape entanglement hazards posed by large-scale operations like trawling fleets. To reduce this risk fisheries should always adhere strictly to wildlife protection regulations so accidental captures are avoided whenever possible – enforcing stricter sanctions against those caught breaking the rules will help deter irresponsible behavior too!
Finally, another way we can help protect flamingos and their habitats is through education; raising awareness about different species' needs will make people more aware of how our actions affect wildlife across the globe – something especially important considering most species only exist within limited ranges today due its ever-increasing demands on nature's resources! Additionally, encouraging businesses (such as tourism operators) working near sensitive ecosystems like wetlands should strive for sustainability

Conclusion
It is clear that flamingos are a highly important species in Ibiza and beyond. Not only do they add vibrancy to the island's diverse ecosystems, but their presence also serves as an indicator of environmental health—letting us know when something is amiss with our environment. Therefore, it is essential for visitors to the island (as well as locals) to do their part in supporting flamingo conservation efforts.
The most important thing we can all do is take steps towards protecting these creatures' habitats; this means being mindful of how our actions could impact delicate wetland environments where these birds feed and breed. This could involve anything from avoiding activities such as fishing or development projects in sensitive areas, through to reducing personal waste production so pollutants don't end up contaminating water sources used by flamingos and other aquatic life forms alike! Additionally, any businesses operating near wetlands should strive for sustainability at all times so that profits don't come at the expense of local wildlife – like pink-feathered friends who call Ibiza home!
Another way we can help support flamingo conservation efforts is by engaging with organizations dedicated to research and protection initiatives around Europe; many offer volunteer programs which give individuals the opportunity to participate directly in field work aimed at gathering vital data about different populations across the continent – something especially important considering most species only exist within limited ranges today due its ever-increasing demands on nature's resources! Finally, spreading awareness through education will also go a long way towards preserving this magnificent bird species whose beauty has captivated people around the world since time immemorial – making sure everyone knows why it's so critical that we protect them now more than ever before!