Although Ibiza cannot compete with the spectacular coral reefs of the Caribbean or the Red Sea, amateurs and professionals will find an interesting diving area around the island.
Ibiza is the ideal diving spot to experience the natural wonders of the underwater world. And it is only a 2 to 3 hour flight from Central Europe. The diversity of the 200 km coastline and the crystal clear waters attract divers from all over the world. There are wrecks, underwater caves and rock platforms as well as an incredible variety of underwater life to discover.
The water around the island is particularly clear. With visibility ranging from 20 to 40m, Ibiza has some of the clearest waters in the Mediterranean. Ibiza also has one of the largest occurrences of Neptune grass, here called Posidonia, which indicates that the water is very clean. For more than 100,000 years, Posidonia has provided special water quality and plays a significant role in the island's ecosystem. Countless caves can be found on the cliffs and the many offshore islands, the vast seagrass meadows of the Posidonia (between the salt flats of Ibiza and Formentera, they are protected by UNESCO as a World Heritage Site) provide shelter for numerous fish, and ancient amphorae and even shipwrecks on the seabed are not uncommon.
In almost every village you will find diving schools offering courses for beginners and advanced divers of all levels. The many dive schools around the island, cater to all levels: from absolute beginners to advanced divers and those who want to train as instructors. Tekkies also get their money's worth in Ibiza.
Choose between the wonderful dive sites and explore the beauties of the ocean! Enjoy the eerie silence of old shipwrecks or shoals of barracudas and dive through underwater vaults into secret caves inhabited by lobsters, anemones and sponges – a unique, wonderful diving experience!
Very experienced divers can dive to the Don Pedro shipwreck, which lies at 47 depths on the seabed. With a starting depth of 25 metres, a maximum depth of 47 metres and a length of 142 metres, the "Don Pedro" is the largest shipwreck in the Mediterranean.
It is covered with incredibly beautiful flora and fauna, and you move among scorpion fish, moray eels and a host of other underwater wonders. Another popular dive site is the Plataforma, a former fish farm that was sunk and has become the habitat of many species.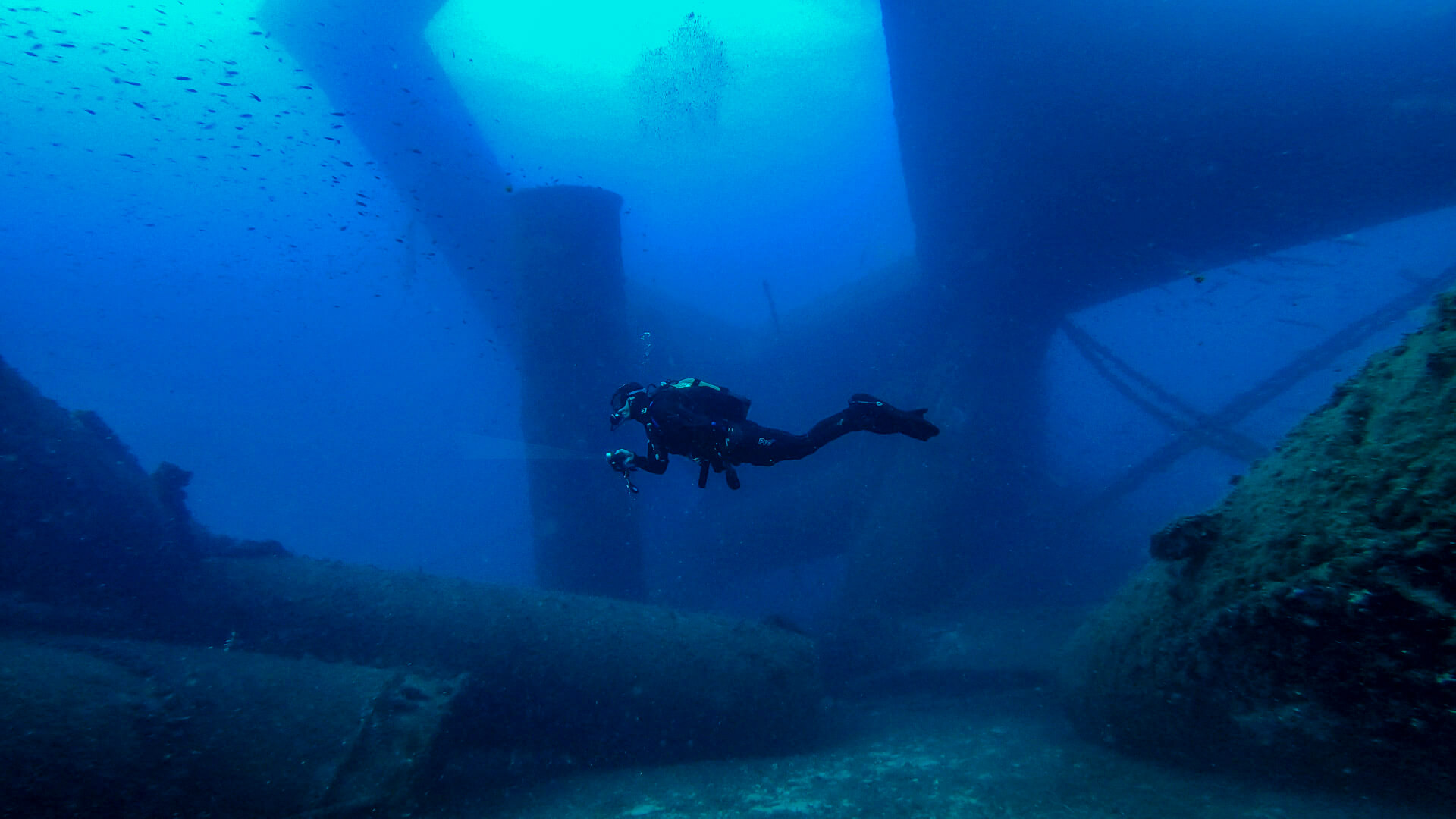 Water temperatures ranging from 14°C in winter to 28°C in summer make Ibiza a year-round diving destination. A dry suit in the cold periods from December to May is my personal recommendation for all divers.