The Balearic island of Ibiza belongs to Spain, which is why a free wedding ceremony on the beach is possible here! From April to September you have many hours of sunshine, hardly any rainy days and best temperatures that rarely fall under 18 °C. Of course, you can not only get married on the beach, but especially under palm trees. Ibiza also offers other beautiful settings.
Es Vedra Island, Ibiza Island, Balearic Islands, romantic wedding location – Es Vedrà, the mystical rock island on the west coast of Ibiza.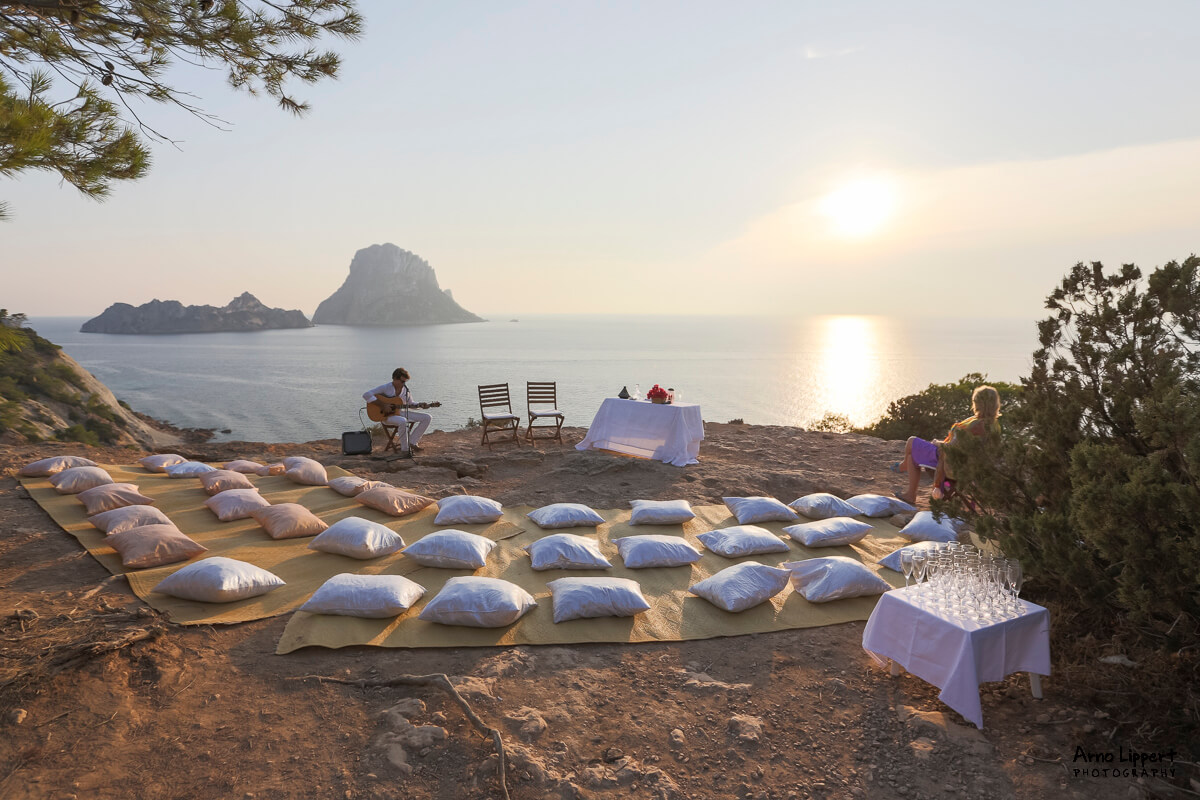 A place in Ibiza that has a real magic is Es Vedrà. The small island is a nature reserve, which is why you cannot marry her, but at least with her in the background. The island is said to be the last visible part of the legendary Atlantis. In addition, the sirens are said to have lived here, who tried to seduce Odysseus and lure them to their deaths.
From the beach of Cala d'Hort you have a fantastic view of the island. There are also some restaurants here, and you can easily drive to the beach by car, so that you and your guests are well looked after.
If you want to have a view of the sunken Atlantis but few other people around you, you should consider the old watchtower Torre des Savinar. It is right on a cliff and only a few vacationers get lost here. If you want to give your yes here, high heels are taboo: from the Cala d'Hort you walk about a quarter of an hour to the ruin. Perhaps you would like to make the wedding vows in the closest circle and then celebrate back at the Cala d'Hort with the wedding party?
We also offer a wide range of villas that are available for weddings from small intimate gatherings for just the well-selected family and closest friends, to weddings with up to 100 guests (a very small number of villas will allow more than 100 guests).
Our conclusion: Your dream wedding on the beach or in a dream villa is more than a romantic wish! Regardless of whether it is an extravagant party or a ceremony in the smallest of circles, by choosing the right location you can get both. In this sense – yes, I want!
You can fly directly to Ibiza from various airports in Europe.